WPDaddy continues to gladden you with great compilations of stunning free WordPress themes for you to create the most exciting blog or website and get the most benefits out of it. Today we are going to present you a sweet collection of beautiful WordPress templates for websites dedicated to kids and children. Take a look and choose the one that fits your likings best!


1. Children Theme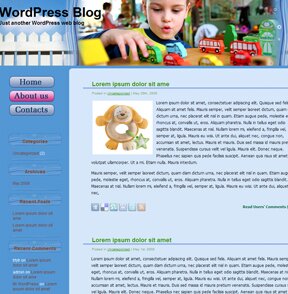 This theme will become an excellent choice in case you are in need of beautiful design for a blog dedicated to children. It looks great and is really pleasant to the eye!



2. Kids Theme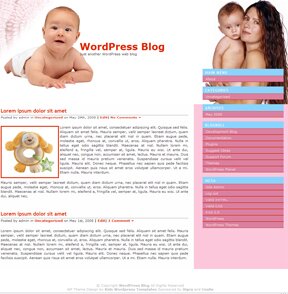 Possessing minimalist design this WordPress template will fit ideally any kids related website you are going to run. It looks simple but really cute due to the combination of white, pink and blue colors.


3. Little Precious


This theme possesses magazine style and will be an excellent solution for any children and family website powered by WordPress. Apart from attractive design it is also distinguished by great functionality which implies built in gallery, ads and Twitter options, enabled posts excerpts and thumbnails and much more.


4. Newborn Baby Smile


Newborn Baby Smile theme is WordPress 2.6 compatible template with 2 column fixed width layout and eye-catching design. It is widget ready and available for free download for you to use it right away.


5. Baby Blogging


Baby Blogging is a wonderful free WordPress theme which will become an ideal match for your kids related website. It possesses very cute design based on 3 column layout and is widget and adsense ready.


6. Children And Toys Theme


This theme is a free XHTML/CSS valid WordPress theme distinguished by lovely design which will make your website look amazing. It possesses a lot of useful functionality features and is cross-browser compatible which makes it a perfect solution.


7. Happy Stars On Clouds


This theme is distinguished by vivid and beautiful design which will amaze every visitor of your kids related website from a child to a parent. The theme is very simple to apply and will help you to establish your own WordPress powered blog at ease.


8. Magic Box Theme


Magic Box is a theme with simple but attractive and friendly-looking design of soft colors which makes it a great basis for any blog or website dedicated to children. Being CSS and XHTML compliant Magic Box Theme will load fast and work perfectly in any major browser.


9. Rainbow Dreams


Rainbow Dreams Theme evokes pleasant dreamy emotions due to its nice and stunning look. Apart from attractive design it also includes such useful functions as search box, widgets and full compatibility with all popular web browsers.


10. Cheerful Kids Theme


This theme surprises by really cheerful and joyful design - that is why it is called Cheerful Kids. Its bright colored scheme and lovely graphics make it a brilliant basis for any blog or website dedicated to kids and children.


11. Kids Style Theme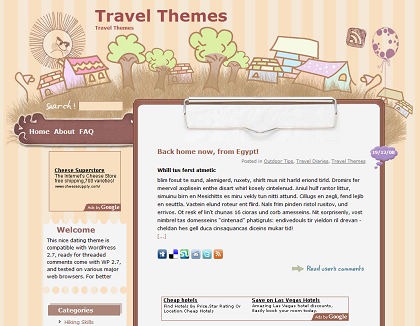 This exciting free WordPress theme is made of pastel colors which make it look really pleasant to the eye. Moreover, Kids Style Theme is cross-browser compatible and very easy to use!


12. My Lil Crib Theme


My Lil Crib is a colorful WordPress template created to become a brilliant solution for any kids and children related website you want to establish. It will gladden both you and your every visitor evoking cheerful emotions due to its friendly design.


13. Little United Nations


Little United Nations theme is aimed to satisfy all your requirements in the process of children blof creation from design issues to functionality facilities.


14. Kids Planet


This template is based on 2 column fixed width layout with left sidebar which is very convenient to navigate. Apart from being usable Kids Planet theme is also distinguished by attractive design and will become a perfect basis for any entertaining website related to kids and children activities.


15. Bunny And Teddy Theme


Bunny And Teddy WordPress theme stands out for its marvelous kids oriented design created of soft colors and cute graphics. This template will help you to create an impressive blog for kids which will be appreciated both by children and their parents.


So if you have decided to run a blog dedicated to any kids and children issues you can easily do it with the help of free WordPress themes we have presented you today. Choose the one that fits your likings best and create your own WordPress powered website for the little precious!